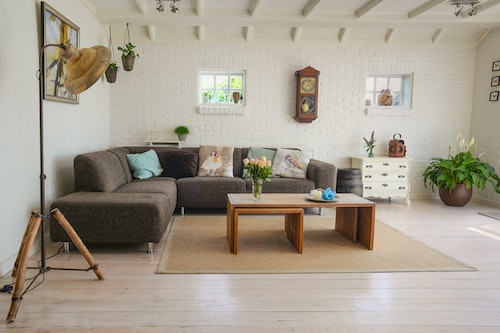 Are you interested in fun, bright and creative styles? If so, the Bohemian style is for you! This style is often artistically unconventional. In this article, we will explore this aesthetic.
Bohemian interior design
Bohemian decor is often noted with layered patterns, bright colors, vintage area rugs, throw pillows and natural pieces, all tying together effortlessly. The style is also marked by worn furnishings.
An economical way to shop for this style is by visiting your local flea market. Bohemian decorating can be exciting and really push you to explore your creative side.
Mixing & layering with Bohemian interiors
The Bohemian design style is merry and light-hearted. Try to avoid minimalism and focus more towards mixing and matching colors and patterns.
Using a neutral base will help you to stack vivid colors in perfect harmony. Mix furniture styles. Leather sofa with a green vintage side table, why not? Add pillows and throws with unique patterns and style to really give your room an eclectic feel.
Using storytelling trinkets
A hallmark trait of Bohemian style decor is the "seasoned," somewhat worn, aesthetic of furniture and other personalized items. This personal touch can be created by adding old photos, statues, vintage pieces and figurines you have collected over the years. This can make the space feel very homey.
Handmade & natural decor
Handmade items give the room a fun, intimate feel and really adds a personal touch. Adding natural elements such as hanging plants, flowers and wood will also help achieve the boho expression. Plants are usually affordable and can give depth and dimension to the room. They also help add an extra pop of color to the area.
Low-lying furniture
One key factor of the boho style is creating a chill and relaxed atmosphere. Adding cute, low-to-the-ground seating helps create the warm ambience the style is known for.
Once you have your seating and low tables, add colorful mixed-pattern pillows and throws to really liven up the space.
Boho decor is exciting and charming. Decorating your home with Bohemian decor gives plenty of creative freedom when furnishing your space.